Life on a Flower Farm ~ Celine's Dream come true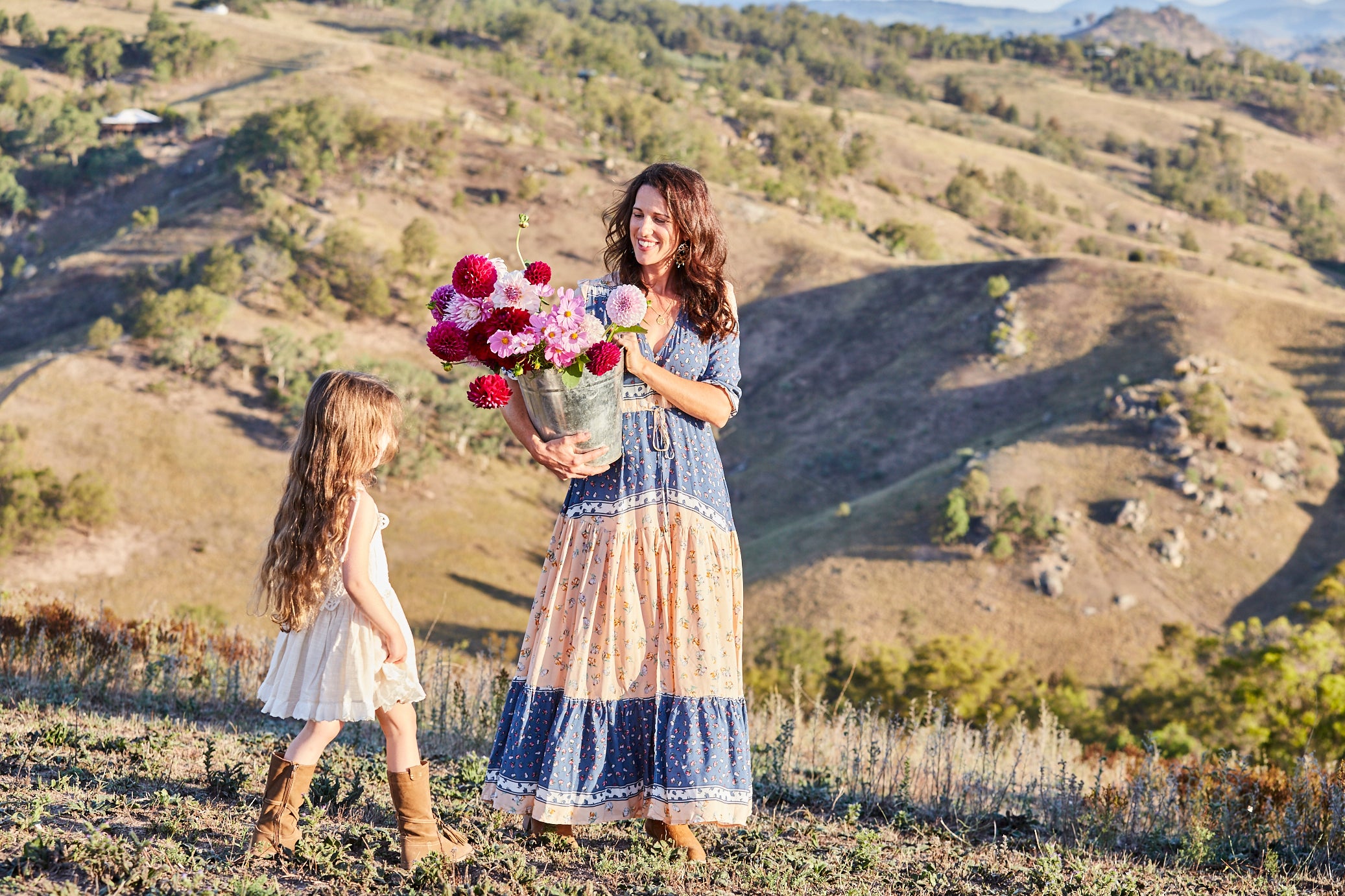 Beyond the Mountain tops, and into the Kanimbla Valley, Celine Watz from Floral By Nature, her husband Tristan are living the dream of raising their 3 beautiful children amongst flower filled paddocks and rolling hills.
A flower lover from the beginning Celine first commenced her career in floristry 20 years ago, when she finished school to commence a traineeship in floristry. Fast forward to the present and together with the support of her husband Tristan, Celine is growing her dream of a flower farm with a conscience. 
We spent some time with Celine, Tristan and their children Indi and Koen on their beautiful eco farm, where little Indi danced amongst the sunflowers and Koen rode his motorcycle through the paddocks. Their older son Lyndon also loves the farm too, where trades his video games to pull a trout or two from the Coxs river, which runs through the farm.
To say that their life is idyllic is an understatement, but it doesn't come without commitment and lots of hard work. On a farm this size, water is driven by truck to nourish the flowers and sewing and harvest time is certainly about rolling up the sleeves and getting your hands dirty. But when we spoke to Celine, we learned that the hard work is definitely worth living their ultimate dream.
So you're a 'Farmer Florist', how does that differentiate from being a regular 'Florist'?
The difference is we grow the flowers we use in our arrangements. We love having a part in the whole process from seed to vase. It also gives us the peace of mind that the flowers we are handling are safe and free from chemicals.
Tell us about your average day as a Farmer Florist in the Blue Mountains.
An average day as a Farmer Florist begins early harvesting blooms for upcoming orders. The morning is spent making up the day's orders and getting them delivered. Then it's onto an endless list of jobs to complete on the farm. Which could be anything from weeding, deadheading, sowing seeds, planting out new seedlings, watering, preparing new beds, ordering new plants and bulbs, replying to emails,  paperwork and planning for the season ahead. 
We love everything about the idea of living on a flower farm, is it as romantic as it looks on your Instagram feed?
Yes it is! We are living our dream! It is a huge amount of hard work to make it all happen though. It is definitely our life and wouldn't be possible if we didn't give it all we have. We fell in love with our piece of land in the Kanimbla Valley the very first time we saw it. Tristan proposed on the farm and we were married in that exact spot. It holds so many happy memories for us. There's no place we would rather be. The more time we spend on the farm the more we don't want to leave!  And that's what we are working towards, living and working off the land following our dream of being flower farmers and raising our kids amongst nature. We feel incredibly fortunate that Floral By Nature has been received so well. None of this would be possible without the support of our lovely customers and the Blue Mountains community. 
Do you want to share with us any visions for your future crops planned for spring?
Our flowering season is coming to an end for 2017-2018 (We don't have flowers over Winter) but we are already getting really excited about this coming Spring. We are currently working very hard getting lots of seedlings and bulbs in the ground to bring you an even bigger, better start to next season full of your Spring favourites such as Sweet peas, Stock, Poppies, Ranunculus and Tulips. We can't wait to share it all with you! 
What is different about your floral farm in comparison to other flower farms.
Unlike the majority of Commercial Flower farms our farm is pesticide free! We use organic growing methods and a whole lot of TLC to grow our flowers. Looking after and enriching the land we love is very important to us which includes protecting our precious bees and beneficial insects. We are also passionate about growing flowers that are safe for us, our children and our customers to enjoy. 
We're seeing a huge trend of images using flowers in food. Do you have any tips for people wanting to put flowers on their plate to either decorate or eat?
Edible flowers are so popular right now! The biggest tip I would give is to not put any florist shop or supermarket flowers anywhere near your food. The mainstream Cut Flower Industry flowers are definitely not food safe. Seek out flowers that have been grown specifically for food and if possible grown organically. You could also try growing your own or raiding your friends or relatives gardens. Just make sure they're not poisonous! Not all flowers are edible so make sure you do a bit of research first. 
---
5 comments
---
---