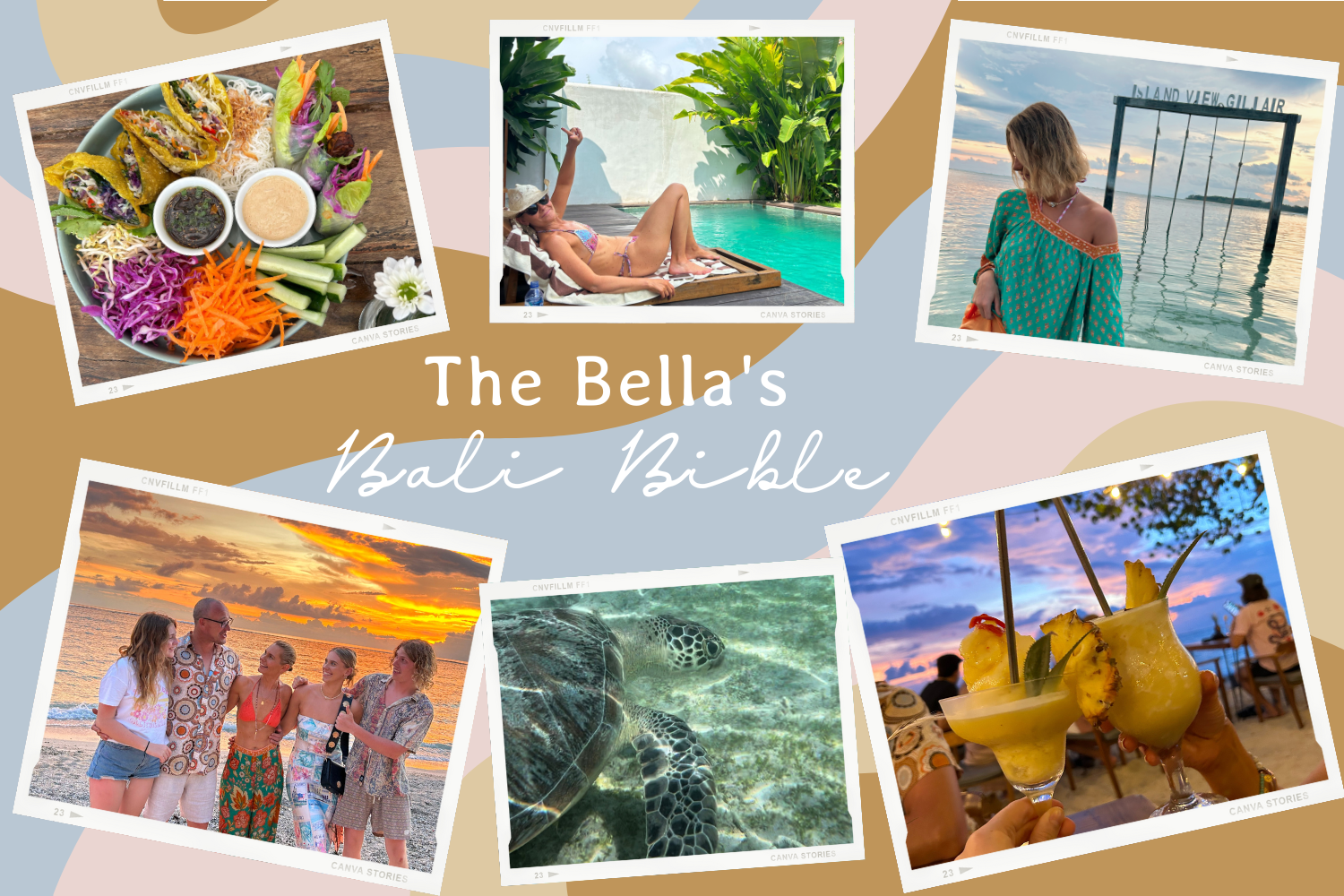 Hello Bellas! We are back from our favourite place, Bali, and what an island adventure it was! After almost 3 years without a family holiday, the 5 of us packed our suitcases and jet set our way to Indonesia!
Today, we are coming at you with our ultimate guide to Bali and all our own little tips and tricks we have learnt along the way!
After our 6 hour late night flight and landing in Denpasar we travelled approximately 1 hour to our first stop Canggu. Honestly, it is hard to find an unattractive Villa in Canggu - you really cannot go wrong! We stayed in the beautiful
Las Lunas Villas
. The hosts provide a chef to cook you dinner upon your arrival (or at anytime of your stay) and is always a phone call away to assist and provide you with absolutely anything you need, they are so very helpful and kind!
Canggu is jam-packed with things to do! We recommend staying here for at least 4 nights to allow yourself time to try all the yummy restaurants, do a few yoga classes and shop up a storm!
Now we are a foodie family, so we easily ate our way around town! Our restaurant recommendations are as follows:
The Shady Shack for breakfast or lunch is a must! The juices are heavenly and the food is oh-so fresh!Definitely sample their health "shot" juices to keep that Bali tummy happy! We frequented Shady Shack more than once within the few days we were there!
After a shop at the famous Love Shack pop up stores and a little bargaining with the locals, head your way down to the beach for a fresh cold coconut and some lunch at Old Mans bar and cafe!
For dinner, we fell in love with Penny Lane! This is hands down the coolest, most aesthetically pleasing restaurant we have been to in Bali!  And the cocktails are equally as good!
Our next location was in the beautiful Uluwatu. We stayed at the most heavenly accommodation overlooking Bingin Beach -
The Surf
. We advise staying here for 2-3 nights.
The Surf is located down 200 stairs at the bottom of a cliff, right on Bingin Beach and we ate at
Kelly's Warung
most days but there are some beach bbqs that happen most nights down on the beach, otherwise if you are willing to earn your meal you can always climb to the top on the stairs to discover that there are many yummy restaurants in the area!
Being a family of 5, between us we had 3 suitcases, one overnight bag, one large backpack, 4 carry-on bags and of course, 1 guitar! It was quite the sight! This was a lot of luggage to trek down 200 stairs so be sure to contact the host prior to your arrival and they can help organise some of the locals to help you carry all your luggage! They may be small but boy-oh-boy they are strong!
Along Bingin Beach you can hire surf boards but there is a limited selection to choose from, so if you are a surfer definitely consider bringing your own board if you have a preference! We spent our time in beautiful Bingin as R & R.
Watch out for the cheeky monkeys that patrol the balconies as they love to steal your food, sunglasses and anything else they can get their cheeky hands on!
Our last leg of the trip was on a tiny little island about 2 and half hours from Bali via boat - to the dreamy Gili Air. Once you get there, you could easily never leave! This island takes you back in time - there are no cars on the Island and the locals get around everywhere on horse and cart! We suggest staying for as little or as long as you like, but to make the boat trip worthwhile we recommend 4 nights minimum. There are 3 Gili Islands - Gili T - or the party island. Gili Meno - the honeymoon island. And Gili Air - the Family Island.
We stayed at the beautiful beachfront De'Coco Villa. Gili Air has so many things to do for everyone in the family. We rented bikes and rode around the whole island which is approximately 4 kms. We stopped at little swimming spots along the way and for a cold coconut at the little beach warungs.
Another day we got to go on an adventure and go turtle watching! We packed the snorkels in a little boat and early in the morning, the locals took us to the little turtle hotspots and beautiful coral reefs around the island! We saw sooo many and it was definitely the highlight of our trip! We also had lunch at Gili Meno. 
Every evening all the little bars and restaurants along the beach pull out their colourful beanbags and you drink delicious cocktails and watch the magical Indonesian sunsets that neverrrr get old! 
Our favourite restaurants on the island would have to be Mama's Pizza and Mowie's. We went to Mama's twice; it was mouth-watering Italian food and after lots of Nasi Goreng it was nice to have a taste of home by the end! Mowie's was delish too! The cocktails were the best we had all trip and the menu had a little bit of everything and it did not disappoint! 
Gili Air is a true Island experience with some beautiful culture thrown in for good measure - the locals are unbelievably friendly and hospitable and have the warmest and happiest smiles you can't help but get swept up in their relaxed and laid back pace! We will definitely return to Gili.
Let us know in the comments if you have any questions for your Bali holiday, or feel free to share any top tips from your own Bali adventures!
Happy travels, Bellas!
---