Top 6 must-visit locations for the boho-hearted traveller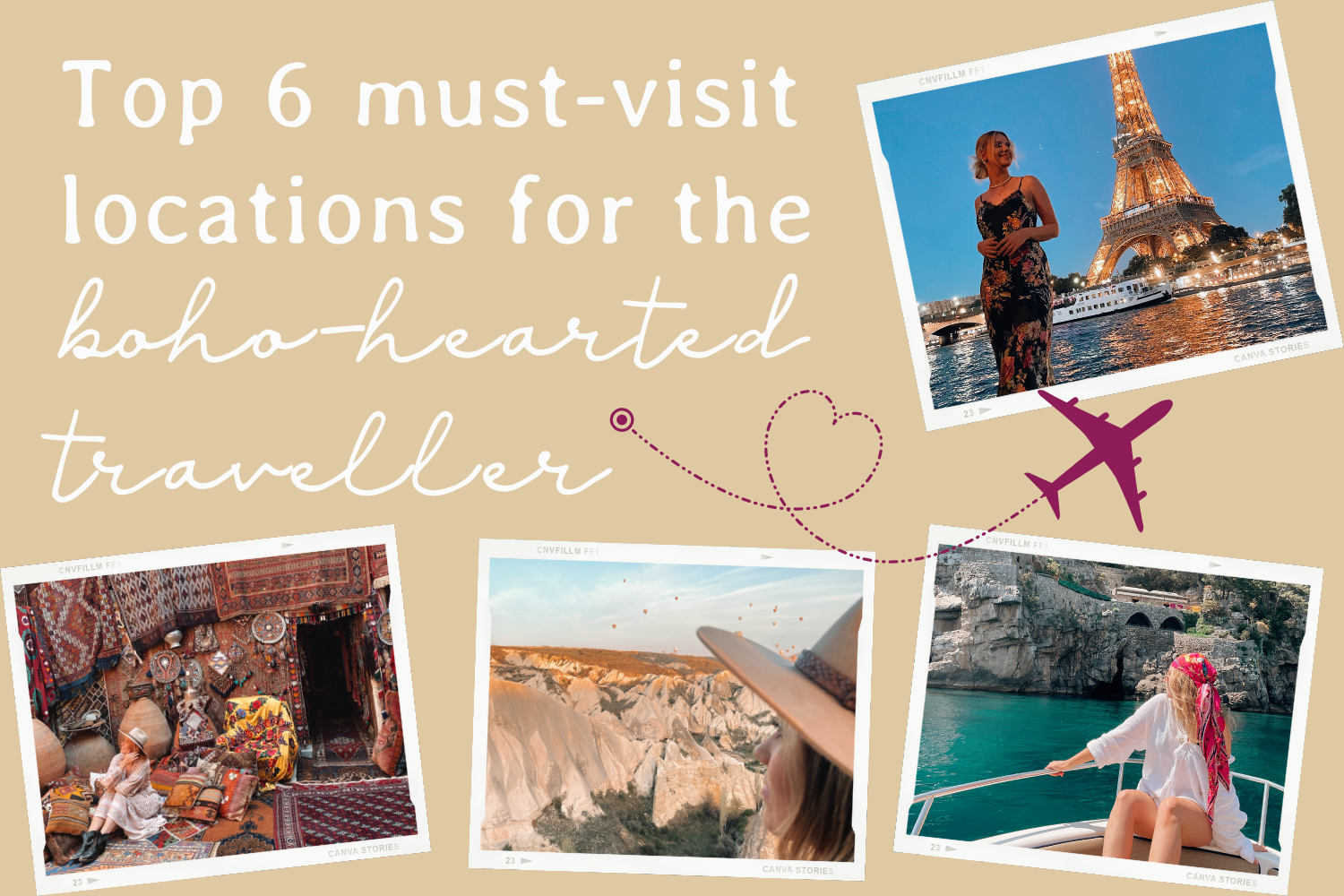 Bonjour, Hola, and Hello, Bellas! It's Bella here - I am back from my 3 month European adventure! WOW, what a life-changing, magical, and tiring journey it was! I met the most interesting characters and saw some of the most breathtaking places on earth and I am so excited to share with you my top 6 MUST visit locations for the boho-hearted traveller!
The land of the magic carpets! Cappadocia took my breath away - from the 160 hot air balloons that dance in the sky every single sunrise to the rug stores filled with the quirkiest characters who serve you apple tea upon apple tea, and of course try and sell you the most incredible textiles - I cannot wait to go back and buy my very own Turkish rug one day!
Venice has been a childhood dream of mine and it exceeded my expectations! We rode a gondola with an authentic Italian gondolier driver! Ate wayyy too much pasta and pizza, travelled by ferry to each tiny village filled with colourful streets and people, and of course I had to buy a Venetian mask!
Now this place was literally heaven on earth! Located on the south coast of Italy, the water was crystal clear, the towns cascaded down the mountains and do not get me started on the lemon gelato! We hired a boat to travel around the coastline and anchored at the most beautiful swimming spots where we jumped off the back of the boat. This place was absolutely magical.
It did not matter what day of the week it was, Mykonos is one big fiesta! Bars and restaurants were buzzing with music and people, the sunsets gave you some serious golden hour, you could swim in the water all day long and those white buildings were seriously #instaworthy! I reached the ultimate relaxation mode on this glorious Greek island!
Two words. Food Coma. Everyday revolved around food! I think I was in a constant state of fullness the whole week we were there! This colourful city was buzzing with people! We visited the Gaudi museum and went to La Segrada Familia which needs to be on everyone's bucket list for sure. Such an insane building - nothing like I have ever seen before. The highlight of Barcelona for me was La Rambla - particularly the food market 'La Boqueria' which lies amongst this busy street filled with shops, thousands of Barcelona football jerseys and colourful people. We ate empanadas, paella and churros until our hungry hearts were exploding!
My last destination and secretly my favourite destination…ahhh Paris! What an absolute dream you were! Everything about this city made my heart burst! The French accent, the aperol spritz, the FASHION! We had a sunset picnic under the Eiffel tower and watched it sparkle at night. We visited the louvre, ate lotsss of croissants at the tuileries , and if you're a fashion lover like me - you have to visit Galarie Lafayette and be prepared to spend hours upon hours browsing the incredible brands and designers!

---