At home with Eilish - Maternity and home styling from a true Bohemian Mumma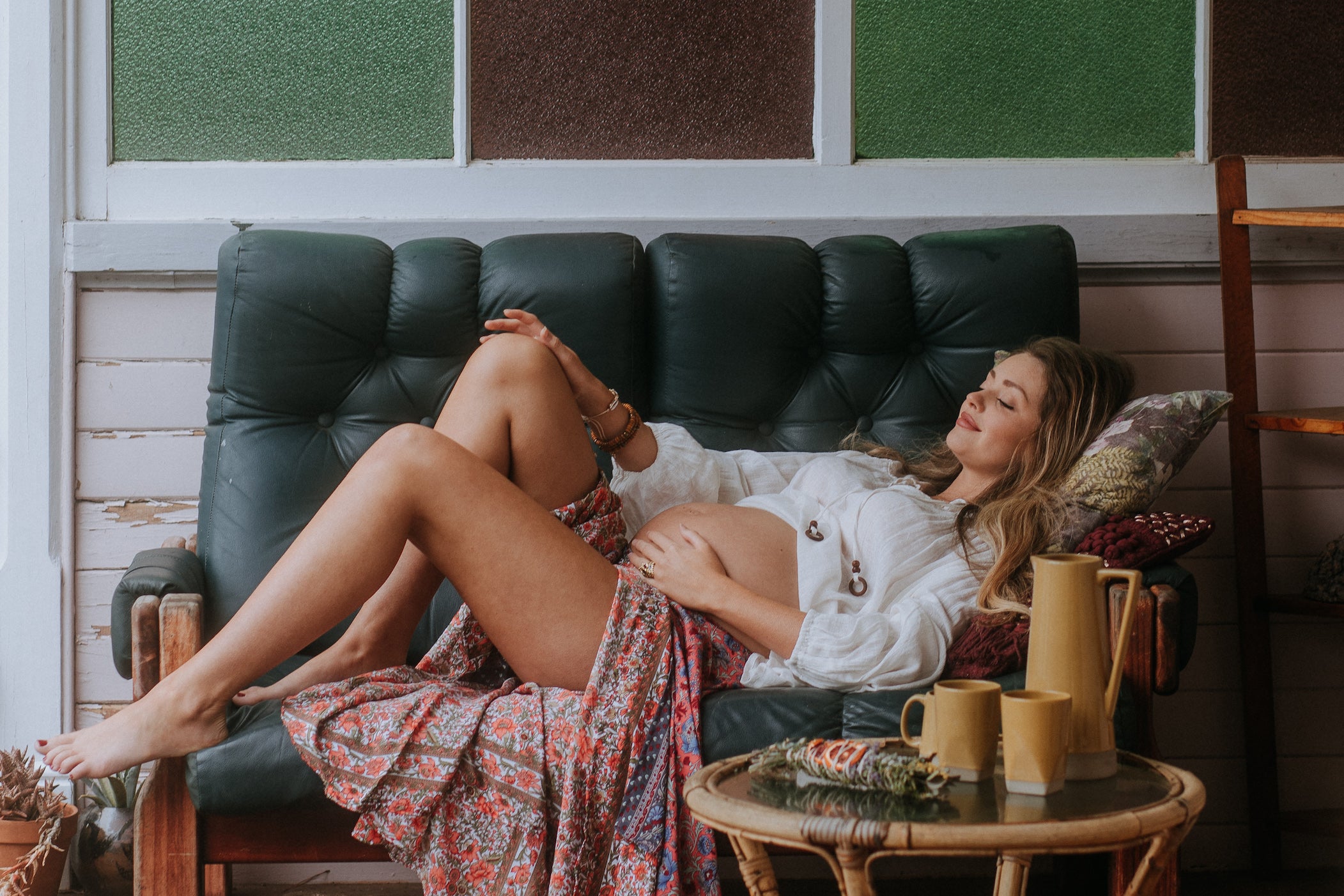 Last week we joined the beautifully blossoming Eilish at home, just 5 weeks shy of birthing her 2nd baby.  It made for the perfect setting to take in the energy of her cosy Mountains Cottage that she shares with her fiance Jake and growing toddler, Arlo. It was a beautiful morning filled with goosebumps and gratitude and a chance to share with you Eilish's beautiful boho home styling and effortlessly relaxed maternity style.
As we arrived Eilish emerged from the front door and floated across the verandah dressed in a relaxed kimono. A summer girl at heart, she seems excited about the impending spring 'I'm just going to pick some flowers, I'll be right back'. She comes back, hand filled with daffodils collected from the garden, we adore Eilish's relaxed approach to life, so reminiscent of a true Daughter of our Blue Mountains home. We wander inside as she fills a vase with water, and styles them into the kitchen.
Eilish's house is full of flowers. Dried Natives and roses preserved from days gone by, in vases and hanging above the bed. Native Grasses and Daffodils foraged from around her house fill the vases and jars. There is even a piece of ivy, trailing above the kitchen window. You can feel immediately on entering, this is the home of an Earth Mother with all her relics of nature, decorating her humble abode. 
It was a misty day to start, so we commenced on the verandah where Eilish donned our Goddess Maxi Wrap skirt, a dream for the blossoming curves of pregnancy through to early motherhood and beyond. With the option to tie above her bump or below, the goddess maxi pairs beautifully with a beautiful billowing blouse.

As we moved inside, we worked the look a little further by tying a knot at the side of her blouse giving it a little more shape for those days where she really likes to accentuate her beautiful bump.
We make our way into Eilish's cosy kitchen where her beautiful Mum, Karyna has left some tea brewing. Eilish floats about in one of our Tessa Maxi dresses in Caribe. We love how these dresses work perfectly from early pregnancy, right through to breast feeding after the babies arrival with the button down front. Eilish is wearing a maxi dress a few sizes up from her usual to ensure comfort and relaxed fitting all the way through until baby's arrival. The Tessa maxi also offers option to wear the waist tie as a loose fit or cinch in a little tighter to suit her mood.
We move into Eilish's bedroom where the bassinet is ready and waiting for her new bundle of joy. In true Goddess form, you can see her bedroom is her sacred space. Behind the bed, a branch is strung with dried roses. A macrame wall hanging is placed next to the window, which blends with the Macrame pillow on the bed.
Eilish makes herself comfortable in our Foundling Jaipur pyjama and robe collection. The Palm Velvet cushion works a dream with the mustard bed cover, taking her back to her family holiday in Bali earlier this year. 
To finish our dream morning we bring out the oh so feminine range of homewares from the pink embroidery collection,wrapping Eilish up in our luxe velvet throw, the perfect soft piece for nursing baby during the quiet hours of the evening. Playing around with the cushions to match on her bed, adding further warmth to her already cosy and tranquil space.
We left feeling so inspired to add a little more nature, texture and warmth to our own homes, replicating the simplicity of Eilish's effortless boho style and truly looking forward to the possibility of another beautiful shoot, once baby arrives and settles into their beautiful little family home.
Thankyou for having us xx
Feeling Inspired? Boho your home with our latest collection of delicious homewares.
---