Blossoms + Boho - Our Day at Logan Brae Orchard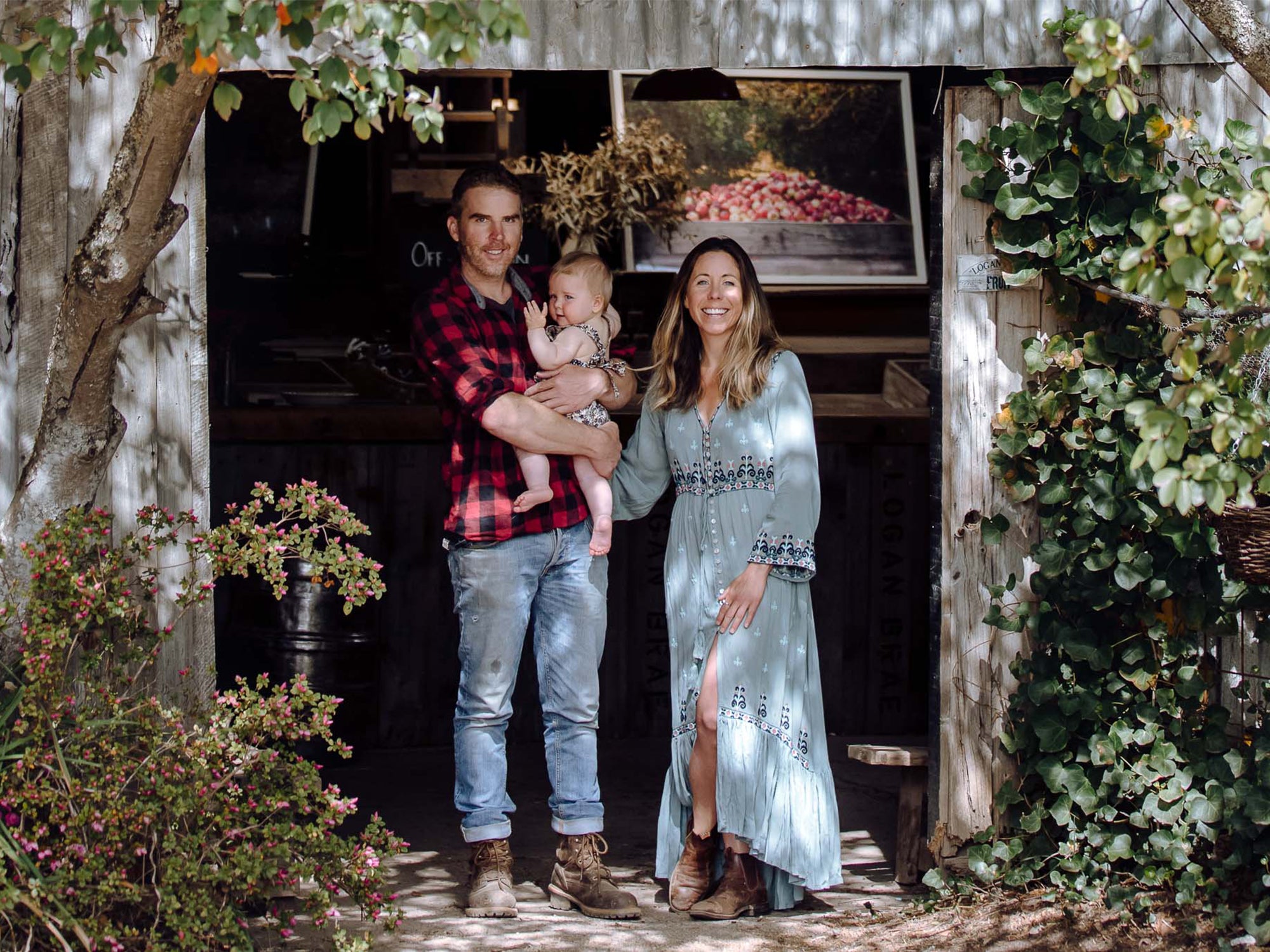 Logan Brae is all about the Blue Mountains producing apple juice and other delicious goodies made 100% locally onsite, using apples grown on the orchard in Shipley Plateau approx. 5 minutes from the Village of Blackheath. Sam bought the little piece of apple paradise in 2011 with the dream to explore modern growing techniques, enabling him to direct his apple production into a more sustainable and eco-friendly farm.
In 2016 Asia joined Sam on the Life, Love and Logan Brae adventure, bringing to the business her creative skills of photography and a host of new products. More recently they welcomed their daughter Grace into the world who completing the perfect picture of their family life living on an apple farm in the Blue Mountains.
We visited the Orchard for a photo session with Sam, Asia and Grace as the apple blossoms bloomed dripping their petal confetti across the ground. Set on the escarpment overlooking the Kanimbla Valley it was the perfect place for a photo shoot of the beautiful family and to shoot the Spring Ishani range.
Over a cup of tea, we learned there is a lot more to this beautiful place than Apples and Juice as Asia shared the story of Logan Brae and the amazing gifts it has to share.
Tell us a little bit about Logan Brae and what you produce on the Orchard?
Well we produce anything you could possibly produce with apples. I'm constantly on the lookout for new ideas. I'm playing with apple cider vinegar at the moment. It's all great fun. Recently we have added chooks to compliment the orchard and help with insect control plus we get amazing free range eggs in return.
I have also started to hold private picnic experiences for people, which have been an absolute hit so far! I love creating these wonderful spaces for people to enjoy.
Besides all the produce we sell, Logan Brae is rich in history. Everywhere you turn there is something new to discover. It's authentic, which is rare these days. You could never replicate what we have here in a new Orchard. It's rambling and falling to bits, but it's full of charm. Our plan is to just restore it as best we can to maintain that charm. We are also so lucky that the previous owners, the Jacksons live just next door. Graeme acquired the orchard in 1912 and pops in all the time to share his stories. It's always fascinating to hear about the place from him. Most of our customers have been coming here since Graeme was here and they all remember him fondly. Everyone has their own story to tell. I think this place is a bit of an institution rather than a business. 
Asia, you were once a professional photographer in the city, tell us about making the change to sharing a life with Sam on the Orchard.
Well I grew up in the bush, out near Wollombi (Hunter Valley) so country life is in my blood. I have really just come full circle.
The middle of my life was spent in Sydney where I worked as a photographer. I spent a lot of time in studios that worked primarily on advertising and catalogue work.
I have learnt so much from the amazing creative people I have teamed up with over the years (stylists, hair and makeup artists, models, producers, creative directors). It was a very fast paced world with long hours and now I look back, probably quite stressful. I used to dream about moving back to the country but I could never quite picture how that would work around my career. When I met Sam everything just fell in to place so easily and here we are today. Now I pinch myself everyday. People say grass is greener on the other side… not this time!
So you're about to launch a book, do tell us more…
I am! It's very exciting. It's my first children's book with New Holland publishers and of course based here on the Orchard, which is where all my inspiration comes from these days. It's just a fantastic space to be creative. The book is called Lovable Lottie and The Lost Toy. The star of the book is our Maremma puppy (Lottie) who is such an excitable puppy she loses her toy everywhere she goes (True story!). Each page the kids need to help her find her toy in the scene.
It was great fun to put together and style. I always need a bit of a creative project on the go. 
Tell us about the fur and feathered members in your tribe
My chooks have become a bit of an obsession for me. I think along with my neighbour and close friend (Hillier) we are slowly becoming the crazy chook ladies of Shipley ;). I did mountains of research before I decided to dive and in the end went with Alpacas and our Maremma, Lottie who are all suppose to guard our free ranging chooks.
Lottie is fabulous, the Alpacas maybe not so much but I love having them around, and they recently surprised us with some baby Crias! Very exciting! All the animals bring so much life to the Orchard, which I think it was missing. Sam may not share my sentiment, but I know he secretly loves it.
What are your secrets to juggling motherhood with a refreshed career incorporating your farm life?
Well you definitely need to love being busy!
I think you just do what ever you have to do to make things work. I was shooting in Sydney until I was 8 months pregnant and when I couldn't do it any more I had a lot of sleepless nights worrying about how I was going to transition my career to one that allowed me to be at home with my baby and Sam. I'm a big believer of doing what you love even if you start out not making much money. If you love what you do people feed off that energy and word spreads and that's when things start to take off.
The one thing I do miss is surrounding myself with talented creative people day to day so I have big plans to bring them here to the Orchard. I am creating a space here that will allow me to run fantastic workshops. It's going to be my little creative hub. So stay tuned for updates on that one. I think there will be something for everyone to enjoy.
When is your favourite time at the Orchard?
Spring is definitely my favourite as everything comes back to life and the Orchard just looks stunning in full bloom. But then you can't beat Apple season when all the apples are at their most vibrant in colour and you can just walk around taste testing all the new varieties Sam has been growing. 
What is it that makes the Blue Mountains so special to you?
Community, community, community! You just can't beat the people up here. No one I have met has a hidden agenda. Everyone is super supportive and will go out of their way for you. As funny as it sounds I think big cities can be quite isolating and lonely. You just don't get that up here. Life is full.
Oh and I better mention the amazing mountains and walks we have. I mean you just can't beat the landscape. It never fails to take your breath away. 
 To experience more of Logan Brae in person, you can visit the cellar door for apples, juice, delicious apple pie + other treats made locally on the farm. Sam + Asia also host private catered picnics over looking the Kanimbla valley and the orchard is available to book for photo shoots. More information can be found on their website https://www.loganbrae.com.au.
Credits
Asia is dressed by us Bella Boheme
Photography: Kylie Carson Photography
Styling: Penny Lane Studio
---