Earth Day - Walking More Gently Upon the Earth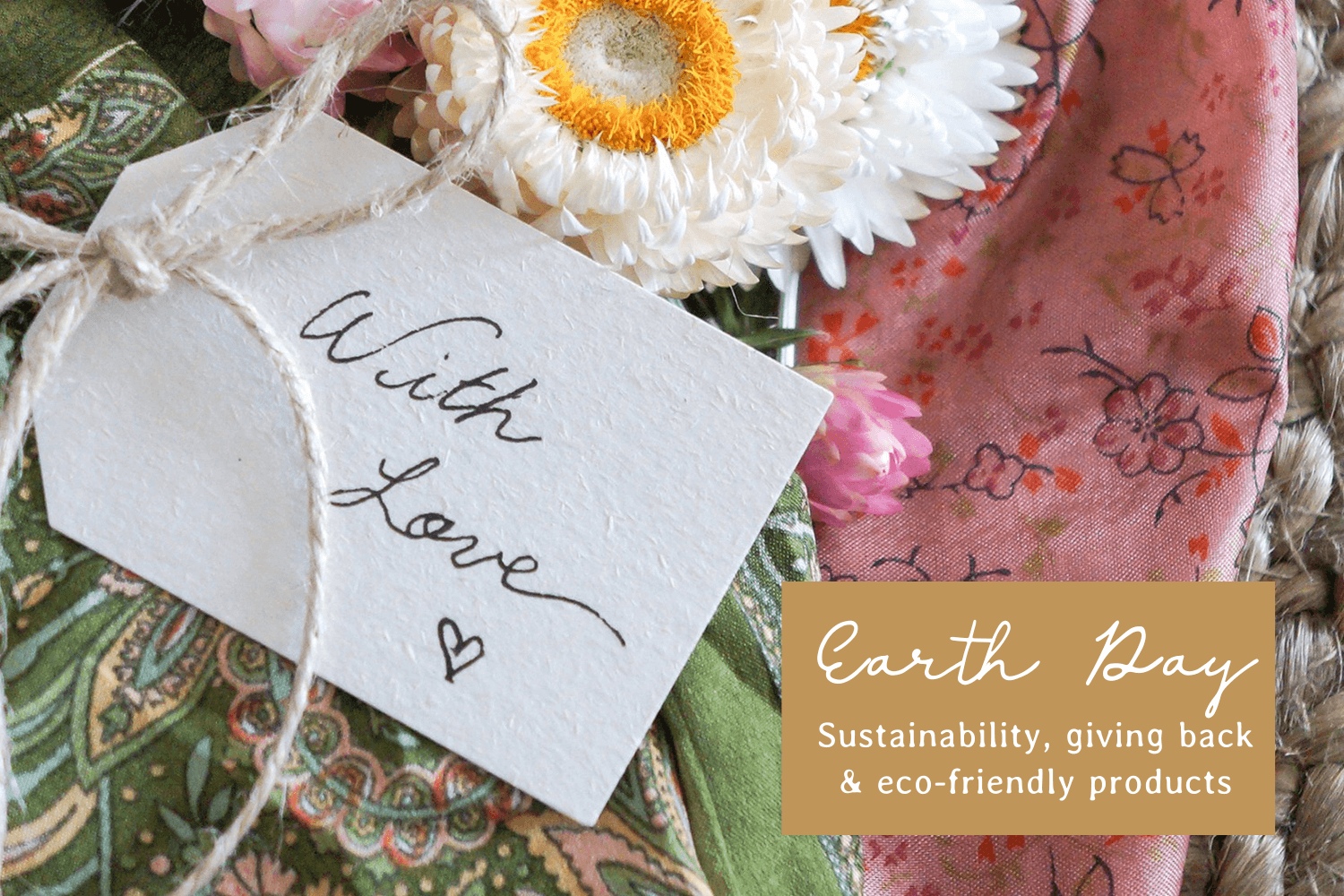 In the spirit of Earth Day today, we wanted to share our sustainability efforts here at Bella Boheme.  This is an ongoing journey for us, and we are working on continuous improvement to help care for Mother Earth and give back to our planet and people.  We would also love to hear what is important to you, and if you have any suggestions for us - we are so happy to listen!
We are conscious that we play a part in the life cycle of the products we sell, and we always want to identify inefficiencies and improve our practices. Here are a few of the initiatives we are taking as a business to reduce our footprint on our beautiful Earth...
Recycled vintage silk sari bags:
All our online orders are lovingly sent in beautifully unique recycled silk sari bags. We do this to reduce plastic waste and the beautiful silk bags can be repurposed as intimate bags, gift bags or storage.  We love hearing how our customers repurpose their beloved silkies!
Plastic recycling:
A lot of our stock arrives protected in plastic bags. We are conscious that this can cause a large undue waste and or environmental problem if not dealt with consciously. We collect these bags and use them as stuffing for "plumping up" in store merchandising (such as inside hand bags and cushions). Excess plastic waste is collected and recycled at plastic waste deposit bins.
In store bags:
Our in store bags are sourced from sustainable forests. This means that as trees are used in this delineated plantations they are replanted to sustain the forests growth. They are sturdy and we encourage customers to repurpose their bags for storage or other creative pursuits. If they do not have a need for them we encourage customers to bring them back to our store so we can re-use them. We have a number of customers that often drop back their bags which we appreciate and love!
Giving back:
Paying it forward is at the heart of our business and we are extremely proud to be a i=Change partner, donating $1 from every online sale to those in need.

Our customers are able to choose which of our 3 worthy charities they would like to help us support, by voting with their dollar for a brighter future for a life less fortunate than our own.

We are committed to doing our bit in walking more gently upon the earth and using our business as a platform for a better world for all.
Thanks to our amazing customers, to date (22 April 2022) we have raised over $45,000 and counting!  You can track our real-time impact here.
Bodhi Organic Tea
Bodhi Organics
is an Australia family owned company, founded by Lisa Guy, a widely respected naturopath and herbalist, author and passionate foodie. Bodhi only use the highest quality certified organic teas and herbs in their blends. Lisa is also a huge advocate for buying organic and supporting organic farming and production. She strives to help spread the word on the importance of buying organic teas (and produce) for better health – i.e., for your health and that of the whole planet.
Bodhi teas are packed in eco-friendly recyclable boxes and 100% biodegradable plant-based bags, along with premium biodegradable pyramid infusers that are free from blench or plastic chemicals. Bodhi is also a proud partner with
One Tree Planted
and
Save the Bees Australia
.
Not Heidi Jewellery
Not Heidi
 is an independent, small label which reinterprets traditional tribal jewellery into beautiful contemporary pieces with a modern look. Each piece is made by hand, combining unique jewellery elements such as vintage coins, bells, beads, and traditionally handcrafted amulets with natural leather and cords. The handcrafted nature of each element means that no two pieces are exactly the same.
Borrowing design elements from different tribal regions around the world, Not Heidi supports the continuation of love for these pieces, whilst making them wearable for our modern lifestyle.
Inspired by the coast, Not Heidi creates by the sea in Sydney.
Eco-friendly books
Here are Bella Boheme we have curated a collection of inspiring eco-friendly books, the perfect addition to your bookshelf or coffee table.
Bopo Women
Bopo Women
isn't just any skincare brand. The range has been developed by founder Bron Stange with one intention; to deeply nourish skin, while also helping women to reconnect with themselves, each other and Mother Nature.
The Bopo team are constantly discovering exotic, luxurious, skin-loving ingredients from all over the world that enhance self-care and ease anxiety. Bopo products are infused with essential oils and feature these carefully sourced natural superheroines to provide true therapeutic benefits. Free from toxins, parabens, SLS, TEA, DEA & cheap fillers.
Bron promises that no woman will ever be harmed, edited, altered, exploited, underpaid, undervalued or objectified in the making & marketing of Bopo products. Bopo Women is an intersectional company deeply committed to unravelling how all elements of identity – race, class, sexuality, gender and ability – relate to body positivity.
It's time for a new kind of beauty.
Holy Smoke Eco Incense
Founded by a mumma and daughter team, Deborah or Deepa and Marli also called Mira, 
Holy Smoke Eco Incense
is a conscious eco-friendly range of Incense with elevated subtle energies and appealing scents for uplifting, purifying and healing.
Designed with high quality plant based ingredients using traditional hand-made methods.  A safe incense that is free from all toxic substances and lovingly packaged in handmade recycled materials.
Clothing made from Linen
It's no secret that we are obsessed with LINEN here at Bella HQ! 
Linen is a completely natural product, woven from the fibres of the flax plant. Linen fibre is totally biodegradable and recyclable!  And... 
Linen is virtually lint free, static free, non-allergenic, naturally insect-repellent and gives UV protection - how amazing is that!
Embrace your inner bohemian free spirit in our beautiful, natural fabric linen clothing.
Happy Earth Day, Bellas!
---