The Bellas show you their go-to Summer styles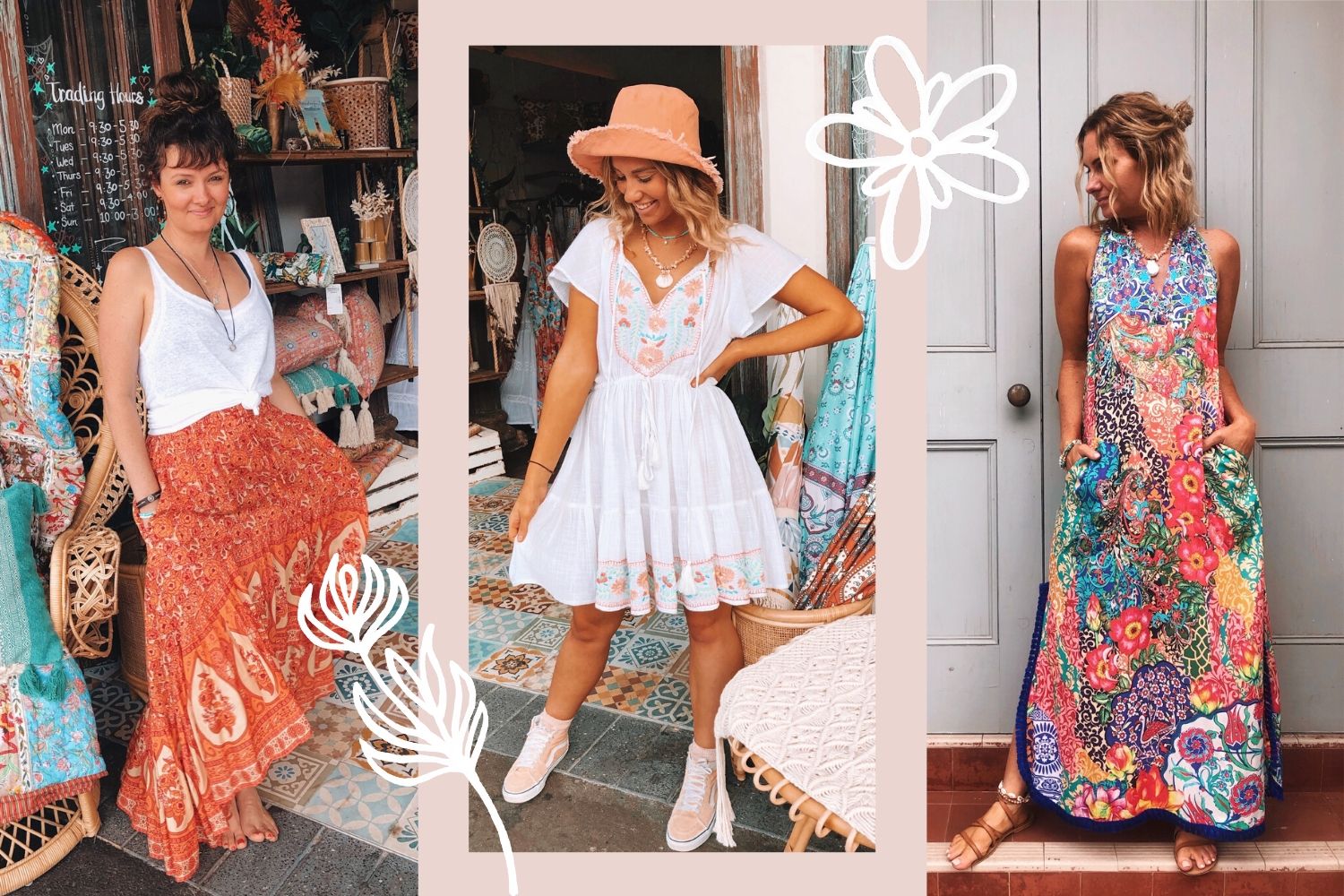 Our eclectic store is brimming with gorgeous bohemian style clothing, with so many new options for your Summer wardrobe... but which ones to choose?!
To inspire your own unique style, we asked our Bellas to show you their current go-to outfits this Summer...
"Being a gypsy at heart, these versatile and effortless pieces make them the perfect Summer get up!  I love wearing them together with a belt, or mixing them up with basics." - Tula
Get Tula's look
Left - Gypsy Heart Blouse - Moroccan Spice | Daisy Duke Shorts - Vintage Blue
Right - Gypsy Heart Skirt - Spice | Linen Tank Top - White
"These fresh and cute styles are easy to throw on over my fave bikini or with denim.  They're light, comfy, with a pop of my favourite colour tones, coral and turquoise." - Bella
Get Bella's look
Left - Sunflower Dress - Ocean Breeze | Morgan Necklace | Ray Bucket Hat
Right - Sunflower Blouse - Ocean Breeze | Daisy Duke Shorts - Vintage Blue | Fidel Tote
"The Summer Romance skirt is so fun, versatile and comfortable.  The colours give all the fresh Summer vibes, just pair with a cocktail in hand!" - Ash
Get Ash's look
Left - Summer Romance Skirt - Tequila Sunrise | Linen Tank Top - Mustard 
Right - Click the video to watch an Instagram video of Ash showing us exactly how to create the signature 'Ash Knot'!
"The New Moon Kaftan is such a cool and comfy piece for those warm Summer days.  Pair it back with shells, shells and more shells!  And a Summer cocktail, of course!" - Sue
Get Sue's look
The New Moon Kaftan | Goldie Cowrie Bracelet
"The Charlotte has been my go-to since it arrived.  Incredibly easy to wash and wear (hello, no ironing required!), and I love how I can dress it up or down.  And the deal clincher?  Pockets!!" - Em
Get Em's look
Charlotte Maxi - Island Luxe (Em shows us how to style it with or without a belt!)
"The Sahara Maxi is so easy to wear, hugs in all the right places, and when I am glowing with my Summer (faux) tan, the white is just perfect!" - Maya
Get Maya's look
Left - Sahara Maxi Dress - Sunset | An array of gypsy jewellery
Right - Sahara Maxi Dress - Vintage White | An array of gypsy jewellery 
Which style do you love the most?  Let us know in the comments! 
---