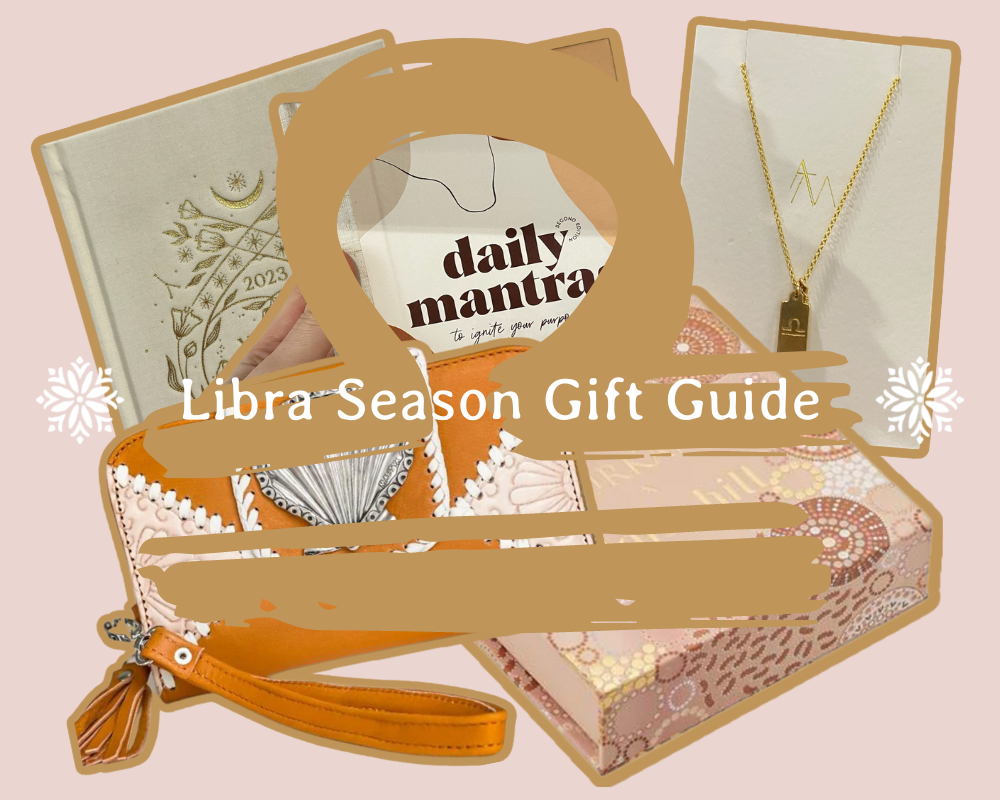 It's Libra season Bellas! Time to celebrate those charming, beautiful and well-balanced beings in your life. Stuck on a gift idea? Fear not! We have researched our Libra star sign and have discovered that these people thrive on making things orderly and aesthetically pleasing (Which is a popular theme here at Bella Boheme!).

These air signs are naturally sociable, witty and have a fantastic eye for fashion trends! Although Libras can be indecisive, gift shopping for them isn't as hard as you probably think! First things first, when shopping for a Libra you want to take note of particular ways they may style their home or wardrobe. Note their favourite colours and perhaps even have a cheeky stalk of their pinterest boards to grasp an idea of what they are drawn to! Take a look at what we think your Libra bestie will absolutely LOVE for their birthday!


Alana Maria Star Sign Necklaces
You cannot go wrong with our beautiful Star Sign necklaces from Alana Maria! Stunning yet simple, dainty and delicate, these necklaces are gold plated but they are also water proof! 
Shop Alana Maria Star Sign Necklace in Libra
Anna Chandler Cushions
The Anna Chandler cushions are veryyyy popular at HQ and it is clear to see why! If your Libra bestie loves to bring colour into their home and make a statement wherever they go, these cushions are a no brainer! (AND they are made from a durable canvas fabrication! So these babies can be used outside!).
Gorgeous Picnic Gear
Speaking of bright and bold goodies, our Picnic folk range seems to be loved by all. Perfect for outdoor adventures or used as display in your home, your Libra bestie will want to be collecting these goodies for many years to come!
Daily Affirmations
As you would know, the Libra love in your life is a huge fan of affirmations and intentions, as are we here at Bella Boheme, so of course we have to recommend our personal favourite book, 'Daily Mantras to ignite your Purpose'.
Start off each day by reading a simple yet beautiful quote to really set your intentions and manifest the best in your life!
Beautiful Eco Friendly Yoga Mat
Perhaps your Libra bestie is a Yoga lover? She may not admit this but she thrives off rocking up to a class looking her best self so why not treat her to the stunning Yogi Peace Club Yoga mats! These mats certainly turn heads AND they are eco friendly! The Libra in your life will be loving themselves sick with these mats!!
Luxe Leather Wallet
The Mahiya wallet range is inevitably a must-have in not just your Libra friends life but everyone's! They are a forever piece and fit all your cards AND phone in them! Made from a buttery soft leather and featuring press stud detailing, your Libra bestie is going to adore these wallets!
2023 Year of Growth Journal
Our 2023 Year of Growth Journals have arrived! And if the Libra in your life hasn't jumped on this yet then you need to hurry because these make the perfect gift for their organised and aesthetic personality.
Practical and Cute Backpack Cooler Bag
Is your Libra bestie an adventure seeker? Maybe they have kids and need that extra hand to carry all things necessary on picnics or to the beach? Introducing the Backpack Esky's from When the North Wind Blows! These are the BEST Bellas! Super comfy, super durable and super handy for those Libras with their hands full!
Murkani Connected Collection
Of course, we can't have a gift guide without mentioning the exquisite, Murkani jewels from the 'Connected' collection.
Each piece had their own meaning and resembles something to each person in its own way. All styles come in silver and gold so their certainly is something for everyone. These pieces are truly special Bellas and we know it may even bring a tear to your Libra's eye.
---