Our visit to the studio of Artist Pip Beauvoir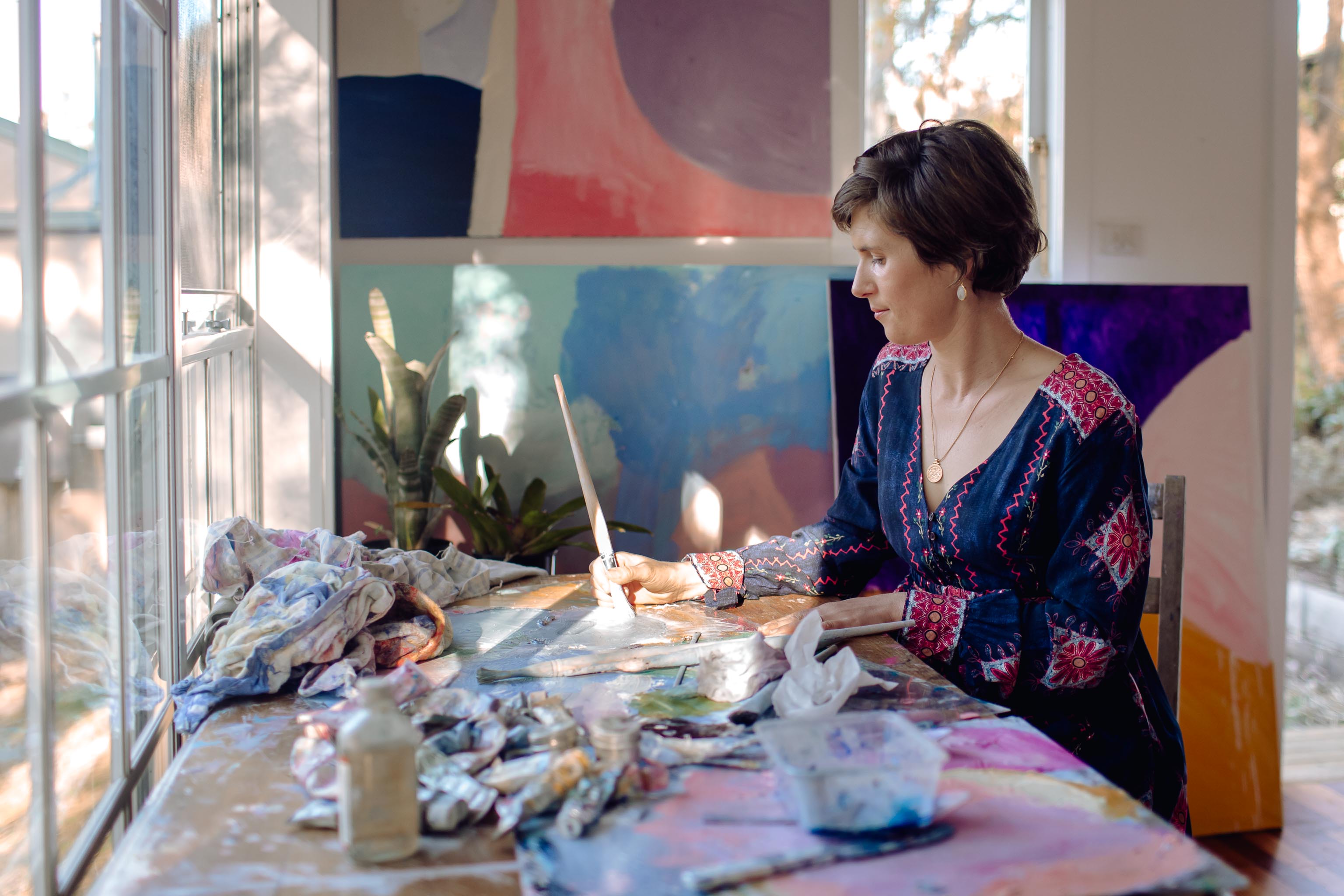 As far as a career choice is concerned for some being 'an artist' is a far off romantic idea. However, painting oils on canvas from a sweet little studio in the Blue Mountains for Pip Beauvoir is her 'real job'.
Pip's studio is nestled in the mid mountains, a cute grey painted timber studio with big white windows. It's idealistic and picture perfect. After meeting with Pip and chatting with her a little more about her creative career, we learned that being a true artist is more about digging deep into your heart and soul, than just putting paint to canvas and that making a career out of art really is possible if you put your heart and mind into it.
You're an artist, with your very own studio, when and how did this all come about?
I had been steadily increasing my art making over the past 5 years, I think as my children became more independent I finally had the headspace to rediscover what I had loved pre-children. The house had become overtaken by paintings, prints and fabric stacked everywhere easels were  in the kitchen, paintings in the hallway and prints were drying everywhere, and I was worried about the strong smell of oil paint. I had started selling prints on etsy and had a solo show lined up and I really needed more space. The studio was built over the past summer by my husband and our neighbour.
Tell us about an average day as an Artist in the Blue Mountains.
After getting my two boys off to schooI I make coffee and head into the studio at 9am. I spend the morning painting and have a break at mid-day. After lunch I may head back into the studio or run some errands, do some organising of exhibitions and workshops or have a nap!  I try to fit in more studio time when the boys are home. In the evening I generally go for a walk and chat with my husband or I listen to a podcast about art and design. After dinner I usually do a bit of planning and design work.
How would you describe your style?
I am primarily an abstract colourist and I paint mainly in oils with some acrylic, oil pastel and marble dust. I use both boards and canvas and like to paint large paintings which are more physically demanding. My paintings are expressions of emotions and memories. I have also recently been experimenting with murals.
Where do you get your inspiration from for your art?
My inspiration comes from listening to my emotions and  experience and imaging what colour and form would represent these.
What has been the most exciting experience for your creative career thus far.
The most exciting thing is actually producing the works, when I finally get a painting to work and I feel a sense of deeper understanding with myself and humanity I feel fulfilled. When my works resonate with others and they buy them for their homes where they live with them and they become part of that family's daily life I feel really proud and grateful.
What would you say is the most challenging thing about earning your living as a full time artist?
It is about a mindshift changed from trying to fit in with a standard job that needs a weekly income, to appreciating the other benefits such as autonomy, creativity, fresh air and afternoon naps when I need them. It is about deciding what is enough and important for me and my family.
We see you run workshops, please tell us a little bit about those...
I am so excited about starting workshops! I have been surprised and overwhelmed by people seeing my paintings and prints and saying how they really want to be more creative. There is a real need for people to be creative and express themselves artistically in order to find meaning and feel fulfilled. I can't wait to share the studio space and see other people being creative.
If someone is considering a full time artist, what advice would you share with them?
There are really good days and there are hard days, but that is the case no matter what you do. I am dealing better with failure as it is part of the process. Really, for me it got to the point where I felt I couldn't do anything else.
Upcoming

Exhibition at Lyttleton Stores December

Workshop on Saturday 28th July in acrylics and an oil painting workshop will be announced soon.
To learn more about Pip and her art visit her website www.pipbeauvoir.com
Credits:
Photography: Kylie Carson Photography
---