SERENDIPITY ✨🖤🕌 Let it find you...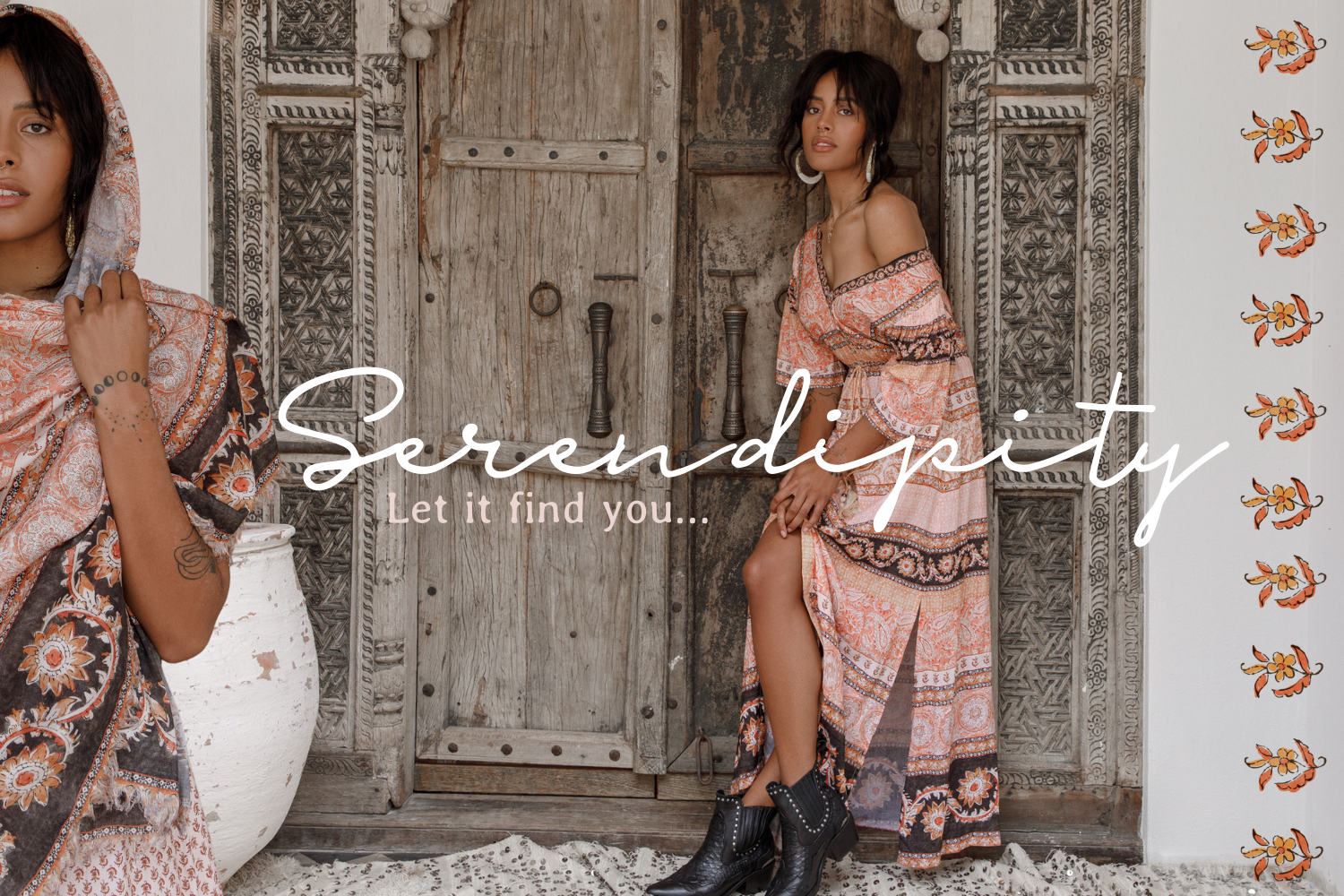 Organically evolved from our hand drawn print

 

Serendipity

 

evokes a sense of global mystique and wonder. 

From traditional Indian Motifs to the earthy and rugged colours of our beloved Australian outback, we hope this limited edition collection inspires you to throw your favourite piece into your beloved duffle and accidentally stumble upon something beautiful…

Hand manufactured in extremely small numbers on the beautiful Island of the Gods - Bali.
The
Haveli Wrap Dress
is a timeless, versatile piece that can be worn as a dress or as a kimono. You can dress up or down by pairing with your favourite jeans and t-shirt or cami as an open style kimono for a casual look, or wear with our
Traveller Boot
 for those festive events!
Our bold yet feminine
Marea Maxi Skirt
is one we hold close to our hearts. A statement piece that can be dressed in a variety of ways. Pair back with a vintage tee and flats for your everyday wear, or dress this one up by pairing our
Anisha Blouse
and favourite
Traveller Boot
to create a fabulous set!
Our signature
Anisha Blouse
is a beautiful, lightweight style that pairs effortlessly with any denim pieces. You can pair this essential blouse with our
Marea Maxi Skirt
for the ultimate set. Tie a cheeky knot in your blouse and you are ready for soirees all year round!
One should expect many compliments when wearing this day-to-night piece! Our
Temple Flutter Sleeve Dress
is made for Bellas of all shapes and sizes! Pair back with a flat sandal or trainers to wear during the day, or throw on your favourite heels for the ultimate night time statement!
Perfect for all of your upcoming festivities... introducing the enviable
Serendipity Gown
! A signature style at Bella Boheme, this dress cascades down your body in a kaleidoscope inspired print, hugging you in all the right places. The open back feature is what makes this one so special! Wear partially off the shoulder for the perfect fit.
A must have for any wandering spirit! Inspired by Polynesian island life, the
Postcards Pareo
/Scarf is the ultimate travel companion, be it international or close to home. Take it on the plane with you to exotic destinations, tie it as a scarf, headscarf, pareo, sarong, strapless dress, or use it as the most precious wrap for your baby over their pram or whilst breastfeeding. We love the versatility of this forever piece.
The Journey Blouse
, a simple yet sophisticated style. The delicate and uniform print will make you stand out with understated elegance! Pair back with your favourite denim jeans AND you can even un-button this blouse and wear it open as a jacket over a white tee!
Our signature
Traveller Boots
are finally here! For the wandering spirit, these boots are a forever piece. Beautiful and comfortable, they only get better with each wear. Expect an abundance of compliments when rocking these edgy and everlasting boots! They'll take you wherever your soul desires, from festivals to garden parties to big city nights, the Traveller Boots will be on high rotation for many years to come!
"The 

Serendipity

 print has been one of the most enjoyable prints I've worked on. Inspired by the Indian wood block-  a beautiful artisanal craft where motifs are printed by hand, 

Serendipity

 oozes earthy bohemian tones through it's watercoloured motifs. With a love for colour and an eclectic yet subtle mixture of patterns, this print is one of a kind. She is free and easy and will quickly become a signature piece transcendent of seasons."  - Jules Gonski
"Having been in the clothing industry for over 20 years, creating my own collection is something that I've always dreamed of.  We are so excited to bring this collection to life, it's been over 12 months in the making.  Working over the years with lots of customers and women of all different shapes and sizes, we really, really hope that this range can encapsulate all of that knowledge that we've gained over the years.
Our beautiful hand drawn print was actually inspired by the Indian block print motifs.  It's a gorgeous kaleidoscope and clash of prints, which we love. And then the colours came from our beautiful rugged Australian outback.  We really wanted to create that global fusion of prints and colours, and just create pieces that you guys will just want to throw in your suitcase and hit the road!" - Em (Bella Boheme Founder)
---