Sunset Moondance with Maddison Clare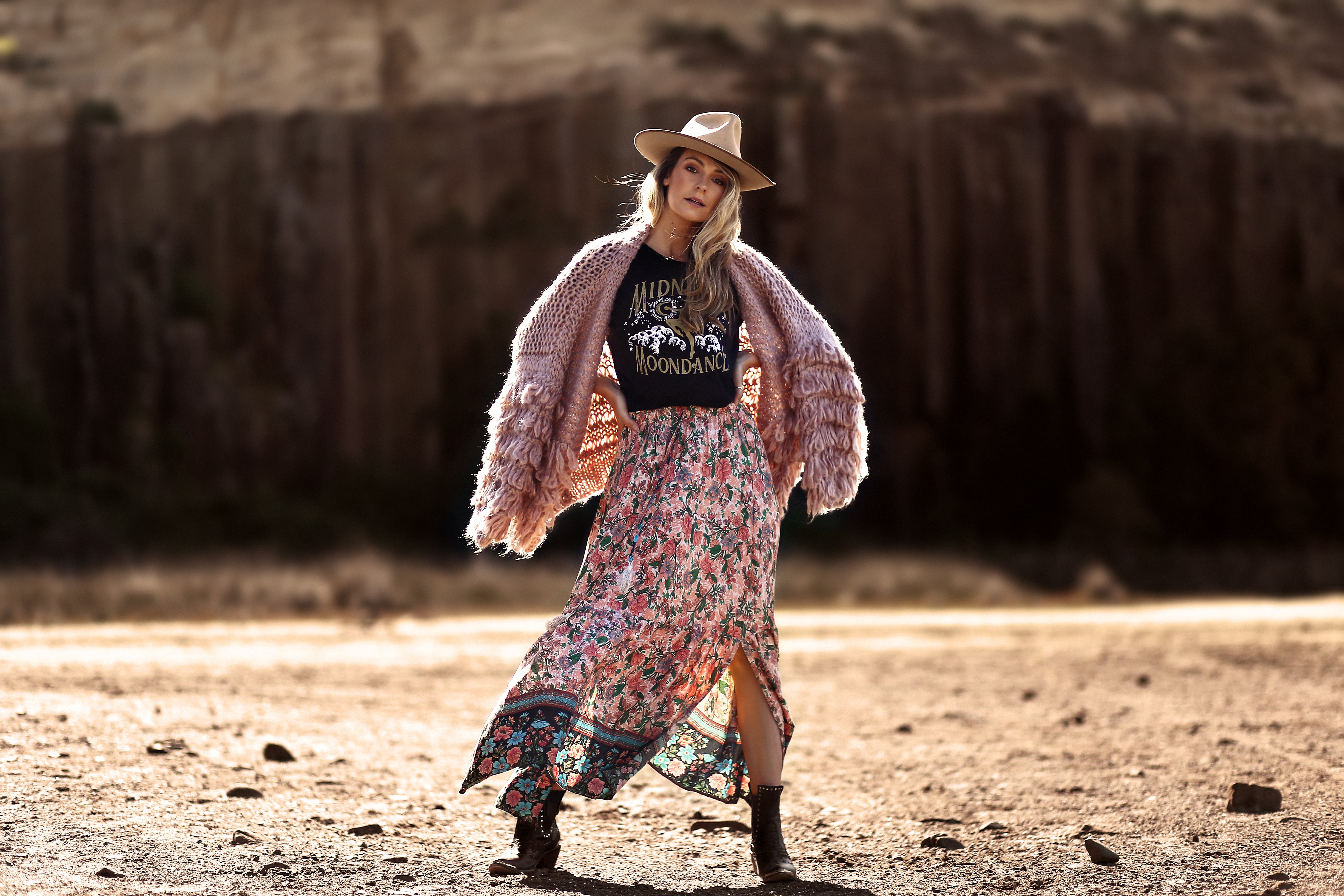 Our original Bella Muse, Maddison Clare took a road trip with gal-pal & photographer Heidi Hannele to capture some of her favourite styled looks on the backdrop of a burnt sienna landscape.
Be inspired by Maddie's effortless style and crush with us over the latest arrival of vintage repurposed denim and army jackets just in time for winter!
The chai knit is one of our favourite sweaters of the season. With its ultra soft cotton blend and beautiful blush tone. Maddie has paired the chai effortlessly with the Botanica Floral Maxi Skirt in Vintage Plum for a contrasted gypsy style.
For those with eyes for Blue, this style is perfect for you! Cosy and warm, with the sweetest bobble detail, we have been smitten with the softness of the Mermaid Crop Knit. Maddie has thrown hers with the Botanica Maxi in Cobalt, completing a Autumn statement style for the lovers of the cool tones of blue.
Sweeter than sugar, we are completely swooning over this super soft and feminine style which we have called...'Raspberry Kisses' Maddie is stepping up the style in the Raspberry Stripe Palmer Lurex Blouse from our Boho Luxe Collection. Feeling feminine and free, she has styled to perfection with the Botanica Maxi Skirt in Lotus.
Why wait until midnight to dance under the moonlight? Ready to break all the rules, Maddie shows us how you can soften a black Vintage tee with the soft floral style of the Botanica Maxi and beautiful Maine Cardi, both in Lotus.
We're not going to lie...you will have to be quick for these! One of a kind, repurposed vintage pieces that you will love and keep forever. Make a statement in serious style as you step out in these incredibly stylish jackets, vests and army shirts embellished with exquisite Hmong Tribal Textiles. One of a kind means a once only opportunity to buy, so if you're falling in love, be sure to grab yours before they all walk out the door, forever.
---