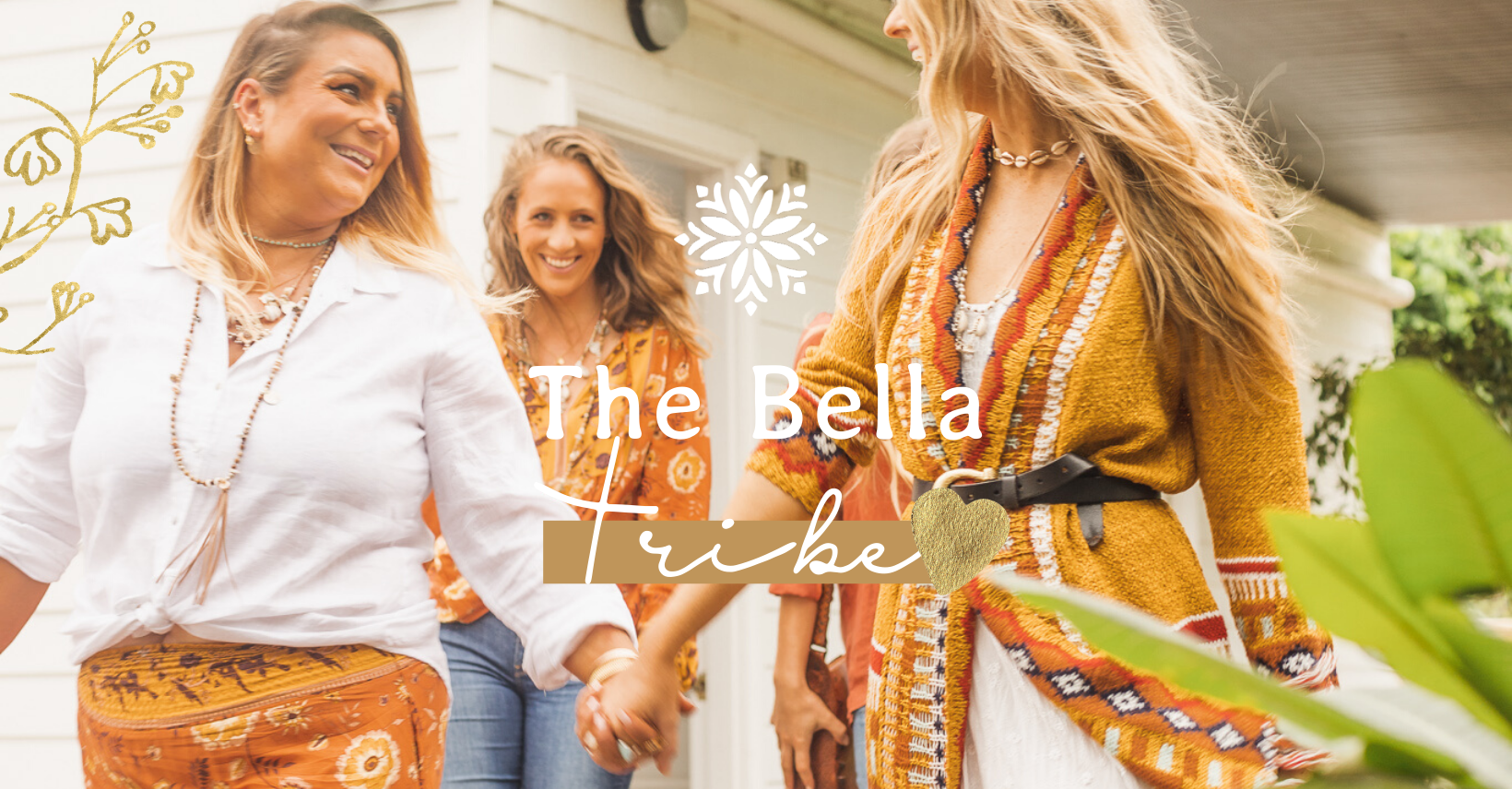 Over the years, we've been so completely blessed by our online and in-store community, and in this time of isolation and uncertainty, it's time to gather together to connect and empower each other.
We would love to invite you to join our Bella Tribe Facebook group 🧡 
This space will connect all the beautiful Bellas with the aim to inspire and bring lightness in a time of darkness. Ultimately, The Bella Tribe will be an uplifting and caring space that we hope can help keep us all connected in the months ahead.
Every Sunday we release a new schedule for the week in The Bella Tribe, including a whole range of content that we are so excited to bring to you all!
Such as home styling ideas, guided meditations, cocktail making, art workshops, craft ideas, as well as sharing our trials, tribulations and occasional successes of home schooling!  And a whole lot more!
Here are a few favourite sessions in The Bella Tribe so far - the replays are all there for you to watch whenever you're ready!
A gorgeous styling session brought to you by Em & Bella 
The Valle girls show you how to style your own boho backyard picnic, complete with a bunch of beautiful Bella Boheme homewares, and the ultimate boho picnic outfits!
How to make a macrame plant hanger with the talented Maya
Our Bella, Maya, shows you step by step how to create your own macrame plant hanger.  The perfect way to add a touch of boho greenery to your beautiful home!
In the Kitchen with Suey - Choccy Pavlova
Our Bella, Sue, takes us through step by step of her favourite dessert - The Choccy Pavlova.  The recipe sheet has also been uploaded in The Bella Tribe for you!
How to make "no cook scented playdough" with Ash and GG
Our Bella, Ash, and her daughter, Georgia, share with us how to make their "no cook scented playdough" using essential oils.  Guaranteed hours of fun for your little ones.   The recipe sheet has also been uploaded in The Bella Tribe for you!
Move Your Body 90s Aerobics with Maddie
Dust off your leg warmers and get your body moving with Maddie's 90s aerobics routine! This is high energy and such a fun way to exercise during isolation!
Plus lots more!  Please click here to request to join the tribe (at the time this was posted there's already over 800 Bellas in there!) - we can't wait to see you there!
🧡 Love Em & The Bellas xo
---