Five rituals for self care this winter solstice.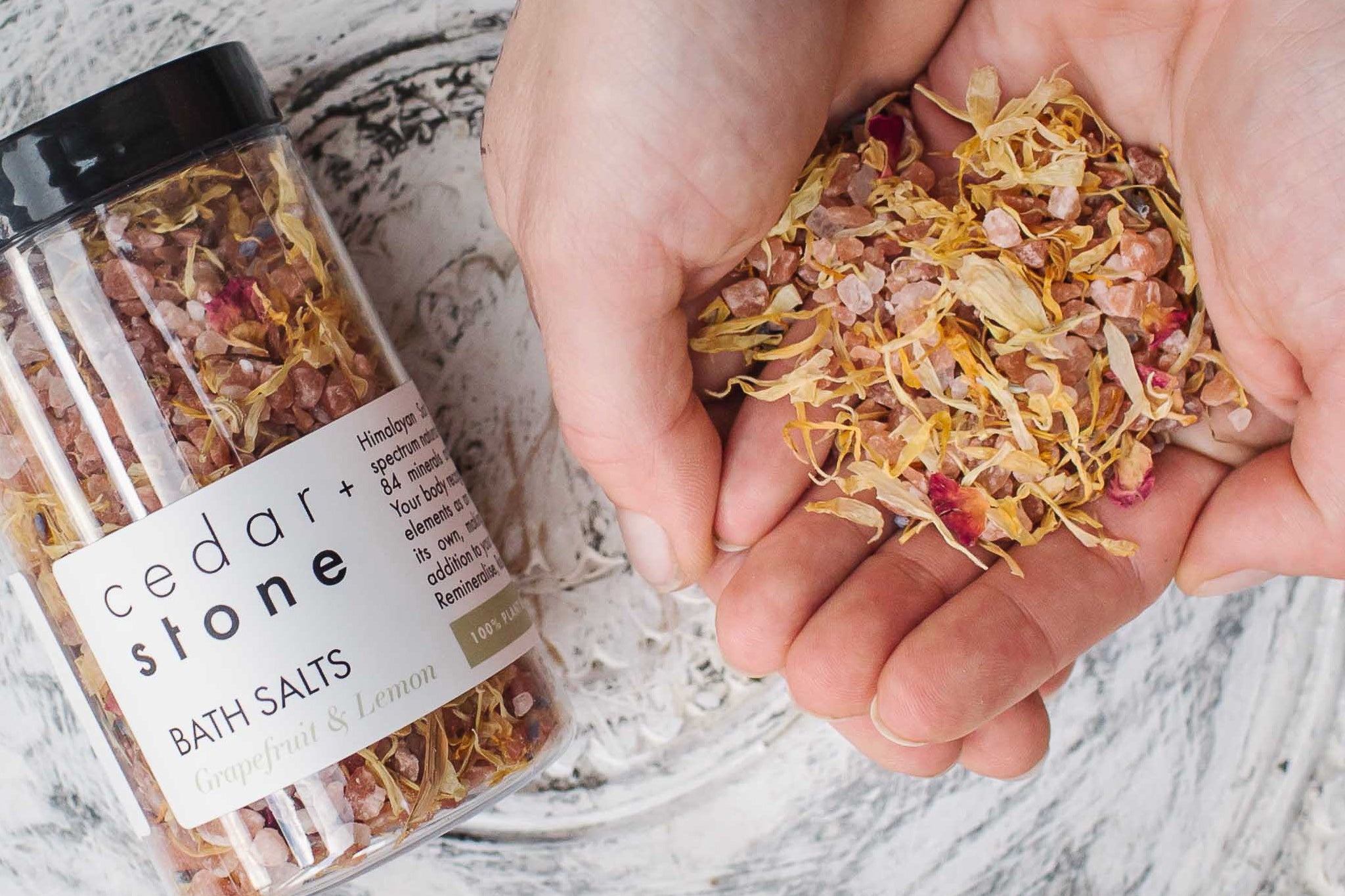 Winter is the perfect season to hibernate within our warm homes and give ourselves some nurturing and self care. This week we talk about the kind of self care to nurture your body and soul. The kind, which you would give to, your children, partner and loved ones, but perhaps you wouldn't think to give to yourself.
As Women, we are natural nurturers, constantly caring for and supporting and in turn filling the cup of our loved ones, often forgetting to do this for ourselves. But its important to remember that when we do look after and nurture ourselves, we have so much more to offer to the ones around us. Of course we are all often too busy to think of ourselves, so we're sharing with you some simple ways to give yourself some self care at home, so you don't have any excuses but to fill your own cup too. 
Take a bath.
The simple act of taking a long, hot bath is a perfect way to take some time out. Fill your bath with something yummy such as the cedar + stone scented oils or bath salts that give you that day spa luxury, but at home. Light a candle, close your eyes and focus on the feeling of warmth of water on your skin. Remember this is your own personal quiet time, so make sure you schedule the bath for when the children are asleep in bed, or your partner is out for the night. 
Take yourself for a walk outdoors.
No, we aren't talking power walk, we are speaking about the kind of stroll you take on a Sunday or when you go on holidays. Take yourself somewhere beautiful, a park surrounded by trees, a bush walk, the beach. A place where you can connect with nature. As you walk, listen to the sounds of nature. The birds, the rustling leaves, the waves. Connecting this way with nature offers you a style of conscious meditation often easier than trying to still your mind sitting cross legged in a quiet room. But by focusing on the sounds of nature, you are focusing on the present and not the worries of your day.
3. Read a good book.
Choose a cosy corner in your home or a cafe and lose yourself in a good book. For those of us who cannot commit themselves to a novel, we're loving the messages of love and wellbeing by previous Blue Mountains resident artist and wellbeing coach Meredith Gaston.
4. Warm your soul with a nice healthy herbal tea
The perfect remedy to cold hands in winter are a warm cup of herbal tea. Filled with antioxidants and beautiful remedies to support your health. Choose something which compliments your mood. Cammomile to relax, ginger for its anti inflammatory and tummy settling qualities and cold and flu support, or go all out with one the Cedar and Stone or Bodhi Organic Tea blends designed to nurture your body and soul. As you sip, focus on the taste of the tea and consciously enjoy the aroma to immerse yourself in the full experience.
5. Nourish yourself with a healthy meal.
It's Sunday, book your partner in to take the children to the park for some outdoor play. Pull out your favourite pot and create a beautiful healthy meal to share with your family. Load it with plenty of healthy ingredients. Serve it to the table using your favourite tableware, meditate on the goodness the meal contains for your body as you enjoy it....and leave the washing up for tomorrow (or better still, someone else to do). Because for today, this ritual is about nurturing yourself, as well as your family. Right now we're loving 'Share - The Women for Women cook book'
If you feel that you really aren't able to take the time out for self care, we would like to remind you that some of these really are simple every day activities. When you make a conscious effort to be more nurturing to yourself, they become a time for a short period of relaxation. This can be enhanced further by simply choosing a beautiful quality natural soap for your morning shower and immersing yourself in its scent whilst you bathe as a simple act of self care and a time for meditation before you start your day. As is the act of tasting a beautiful tea or enjoying the full experience of nature by exercising your senses - each moment is an opportunity for self care, whilst you conduct the duties of your day.
---