Monique's Vegan Raw Cacao and Avocado cake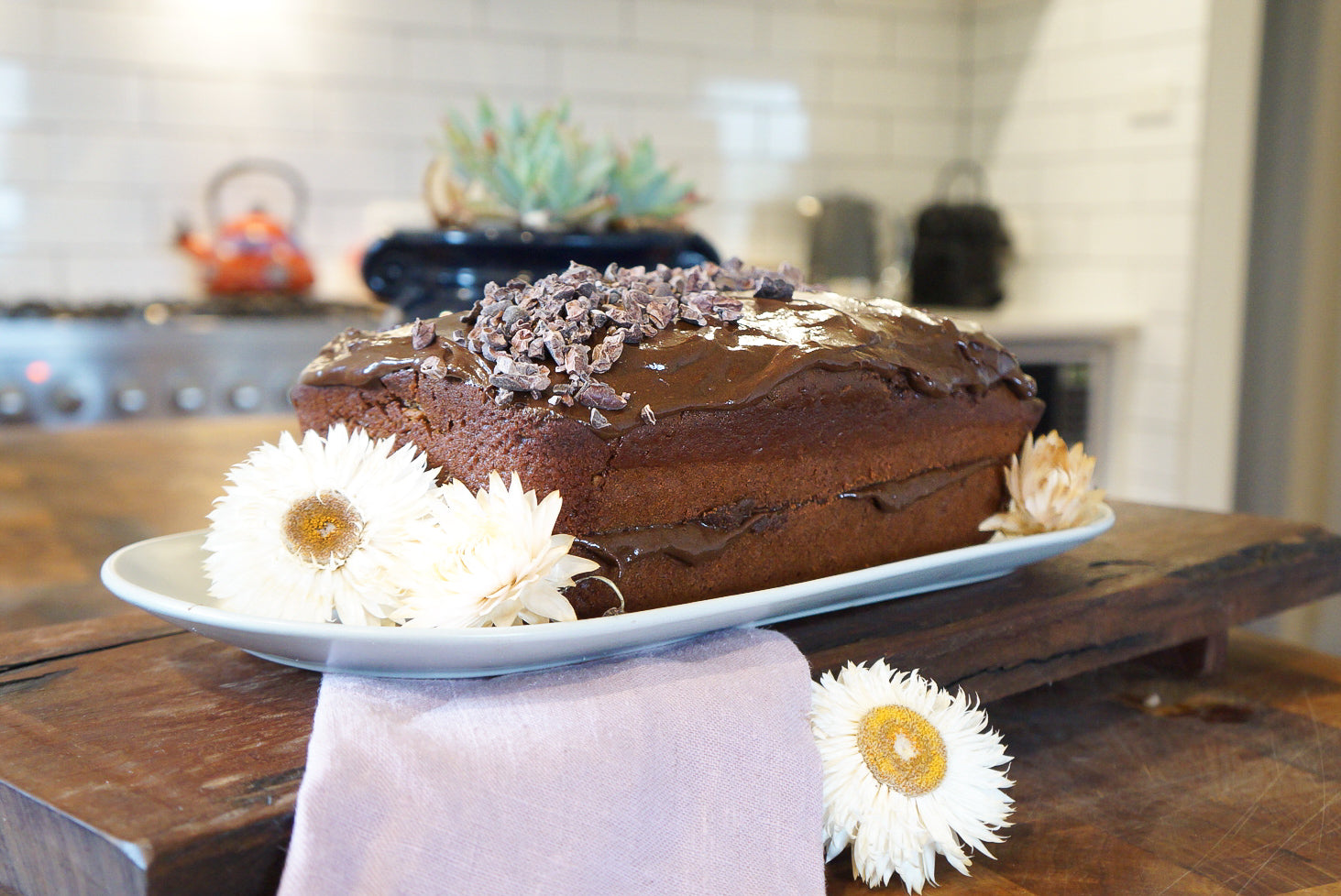 Here at the Bella Boheme HQ we LOVE ourselves a sneaky Cacao treat. The bitter-sweet flavour of this less processed form of chocolate takes us to far away exotic places and warms our soul. So when Monique Laing, head baker and creator at Cake'n'Co suggested a Cacao and Avocado cake for the journal, we did raise our eyebrows for a wee moment.
On arriving to shoot the cake, we saw straight away, the moisture and density the avocado gives this delicious cake was one to write home to grandma about. With just the right amount of sweetness, and a touch of cinnamon spice, this easy prepare, vegan delight will be one we keep coming back to, especially for those Sunday afternoon teas with family friends.
Cake
Ingredients
3 cups of plain flour
1 ½ cups sugar
5 tablespoons dark cacao powder
2 teaspoons baking powder
2 teaspoons bicarb soda
1 teaspoon cinnamon
½ teaspoon iodised salt
¼ cup vegetable oil
1 ripe avocado, mashed or blended until smooth
2 cups water
2 tablespoons white vinegar
2 teaspoons vanilla extract or paste
Method
Preheat oven to 160 degrees, fan forced oven (180 non fan-forced)
Combine dry ingredients in a bowl.
Mix water, white vinegar, vanilla and vegetable oil + avocado in another bowl.
Combine dry with wet ingredients.
Pour into a loaf tin or 2 x 9 inch round tins
Bake for 30 mins or until skewer test is dry
Frosting
Ingredients
2 ripe avocados, mashed or blended until smooth
2 cups icing sugar, sifted
5 tablespoons dark cacao powder
1 teaspoon vanilla extract or paste 
Method
Combine all wet ingredients
Combine all dry ingredients in another bowl.
Slowly pour wet ingredients into the dry whilst mixing to form frosting.
If using a loaf cake, cut the loaf in half and frost between the layers. Also apply frosting to the top of cake.
For the round cakes, frost top of one cake with half the icing mixture, then layer second cake on top of the iced cake. Then ice top of cake with the balance of the frosting.
Optional, Top with raw cacao nibs
If you're looking for a unique, allergy free or creative cake for your wedding, celebration or just because, we are loving the work of Cake'n'Co. Monique returned to baking for busy people with her business after moving to the Blue Mountains from Sydney, where she first began creating beautiful sweet treats for celebrations of all flavours. To connect, click here.
Styling and Photography: Nicole Bull, Penny Lane Studio
---